Industry experienced staff alongside high spec  technologies provide an opportunity to bridge the gap between College and the Creative work environment.  Offering high quality education, strong industry links and an inclusive, open plan setting, we pride ourselves on delivering professional, creative and individuals able to succeed in the next step of their journey.
You can choose to study A Level: Fine Art, Photography, Graphic Design, Fashion, Textiles as well as Maths and English alongside BTEC qualifications in; Business ,Criminology,  Music ,Performing Arts, Production Arts, Creative Digital Media Production, Health and Social Care , Stage Management and Level  3 Criminology.
Success can be hard to achieve but with the right work ethic and enthusiasm we will nurture young people's creativity and talent and channel it for future success, this is captured in the sign above our door ….
"Your talent gets you to the door ; your work ethic leads you to success."
We are very pleased you have taken the time to visit our website , we look forward to meeting  you soon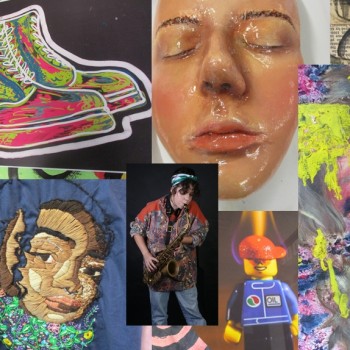 EXAMPLES OF WORK

At the heart of a Studio School are six key elements:
Employability and enterprise skills

 

– students are supported to develop the key employability and life skills they need to succeed
Key qualifications

 

– students are taught the national curriculum and work towards a range of key qualifications at Level 2 and Level 3
Personalised curriculum

 

– students meet frequently with their 'personal coach' to tailor the curriculum to their individual needs and aspirations
Practical learning

 

– students' learning is delivered through enterprise themed projects in the school, local businesses and the community. There are even opportunities for students to spend a portion of their weekly time in real work
Real work

 

– students will spend a significant portion of their weekly time in real work
Small schools

 

– students will learn in a small, supportive and personalised learning environment of around 300 students
Studio Schools have been specially designed to maximise the possibilities for every student; this is a school unlike any other in the country.
We have businesses and pupils working side by side and our new purpose-built £4.5m building will be one of the best learning facilities in the country, let alone Kirklees. What makes us different is not what is offered but how it is  delivered. We take learning out of a traditional classroom setting, 
teaching the curriculum through real-life enterprise themed projects in the school and the surrounding community.
Our post-14 and post-16 students benefit from studying business-relevant qualifications in an environment that allows them to apply what they have learnt in the classroom directly into real life business situations. Some of our pupils even get paid for doing so! We are already seeing evidence that this practical approach to learning is leading to high grades, improved engagement and better job prospects for young people, as well as widening the pathway to higher education and beyond.